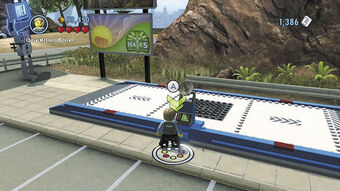 Super Builds are special objects in LEGO City Undercover and LEGO City Undercover: The Chase Begins which are made using Bricks (Super Bricks in The Chase Begins). There are sixty-five Super Builds in LEGO City Undercover and forty Super Builds in The Chase Begins.
Some Super Builds are only decorative, but many, such as Call-In Points, Stunt Ramps, and Helipads are functional. Some Super Builds must be finished in order to advance the plot of the game. In such instances there are normally ample supplies of Super Bricks available nearby.
Although some Super Builds are one-of-a-kind, other Super Builds appear in multiple locations within the game. Call-In Points are an example of this, as there are a number of them are available.
Completing a Super Build usually awards a new Character or Vehicle token, depending on the nature of the Super Build.
LEGO City Undercover:The Chase Begins
LEGO City Undercover
External Links