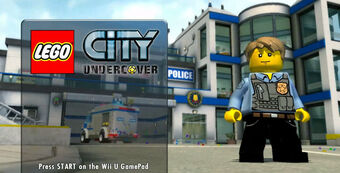 The LEGO City Police Station is the headquarters for the LEGO City police force in LEGO City Undercover and LEGO City Undercover: The Chase Begins. The internal layout of the Police Station changes somewhat between the two games.
In LEGO City Undercover the Police Station is the first place Chase McCain visits after returning to LEGO City. There McCain meets Frank Honey and Ellie Phillips. He also learns that Dunby has been promoted to police chief. In Chapter 1 - New Faces and Old Enemies McCain gets his first unlockable Disguise at the Police Station, as well as his first Vehicle, the Squaddie.
Functions
There are many tasks which can be performed at the Police Station, including buying unlockable Disguises, Vehicles, and Red Bricks, as well as rewatching cutscenes.
In LEGO City Undercover not all of these options are available at the start of the game. The Vehicles Requisitions Desk, which is used to purchase unlocked Vehicles, is inaccessible until after Chase McCain acquires a Grapple Gun in Chapter 2 - Blast from the Past. Access to the area where Red Bricks can be purchased requires the Robber disguise, which is acquired during Special Assignment - Trouble in Stir.
Also the place where you can buy Gold Bricks Needs the Construction Worker you can unlock in a special assignment