Ellie Phillips

Ellie Phillips using her Communicator

Name

Ellie Phillips

Age

30

Job

Police Officer

Appearances
Ellie Philips is a female police officer in LEGO City Undercover. She works in the Evidence and Requisitions room of the LEGO City Police Station. She issues Chase McCain his Communicator, and frequently makes video calls to him to provide him with information or ask for updates. You can also buy disquises from her.
Notes
She is voiced by Ashleigh Ball.
She has a southern accent.
Ellie looks after the requisitions office.
Duke Huckleberry is her uncle.
Frank Honey has a crush on her.
She has a big dog.
She lets Natalia Kowalski walk her dog.
Even though Frank crashed the truck she's sort of responsible because she told him to get the truck as a favor for her.
In the promotional's pictures she has a sleeveless shirt. However in the game she is wearing a shirt with sleeves.
She can be unlocked at Lady Liberty Island
Gallery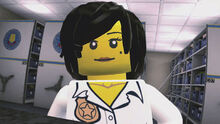 Ad blocker interference detected!
Wikia is a free-to-use site that makes money from advertising. We have a modified experience for viewers using ad blockers

Wikia is not accessible if you've made further modifications. Remove the custom ad blocker rule(s) and the page will load as expected.