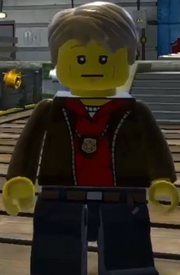 The Civilian is a disguise worn by Chase McCain in LEGO City Undercover. In LEGO City Undercover: The Chase Begins, it is actually unlocked after story mode. It is the starting disguise for Chase and has no special abilities (except for ones in pre-existing categories).
Abilities
The Civilian disguise has no special abilities, but it will hold a disguise from the Residents, Service, Special 1, and Special 2 categories.
Unlocking
The Civilian is the beginning disguise and is available from the start.