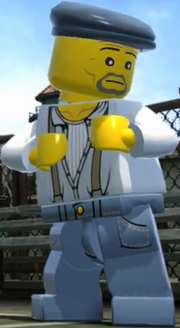 Blue Whittaker is a character in LEGO City Undercover. He is a prisoner at Albatross Prison, who Chase McCain meets while investigating Rex Fury's escape. Blue is a smuggler who is able to get comically outrageous items into Albatross Prison.
Blue's voice sounds like Morgan Freeman, and Blue is a parody take on Freeman's character Red in The Shawshank Redemption. Blue's voice is provided by Josh Robert Thompson.
Ad blocker interference detected!
Wikia is a free-to-use site that makes money from advertising. We have a modified experience for viewers using ad blockers

Wikia is not accessible if you've made further modifications. Remove the custom ad blocker rule(s) and the page will load as expected.